Kudankulam Project | Koodankulam Nuclear Power Plant Statement by Jayalalitha
kudankulam, Kundankulam Project, Koodankulam Nuclear Power Plant Statement, Kundankulam Statement,  kudankulam project statement of kerala, kudankulam N.power project statement by jayalalitha, Jayalalithaa deceiving Kudankulam people, news for kudankulam project, latest news of kudankulam project by jayalalitha, Koodankulam Nuclear Power Plant Statement by Jayalalitha, jaya statement of kudankulam project
Tamil Nadu Chief Minister J. Jayalalithaa had deceived the people of Kudankulam by announcing Rs.500 crore towards development of local infrastructure, DMK chief M. Karunanidhi said Thursday.
He also said Jayalalithaa was responsible for the closure of the Kudankulam Nuclear Power Project (KNPP) for the past six months.
Karunanidhi said in his statement: "Yesterday (Monday) at the cabinet meeting Jayalalithaa decided to open the Kudankulam project at the earliest. But who was responsible for the project to be closed for the past six months?"
The opposition leader said the project was stopped because Jayalalithaa called the agitators for talks and, accepting their request, passed a resolution at the Sep 22, 2011 cabinet meeting asking the central government and Prime Minister Manmohan Singh to stop all project related works.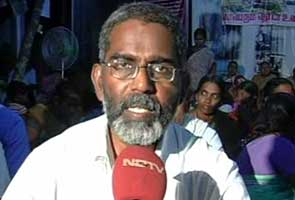 Karunanidhi held Jayalalithaa responsible for the central government losing around Rs.900 crore on salaries for the past six months as the KNPP was not functional.

He said Jayalalithaa had deceived the people by encouraging the anti-KNPP agitators instead of placating them. And was now betraying the protestors by arresting them.

He termed Jayalalithaa's sudden announcement of allocating Rs.500 crore towards development ofinfrastructure in Kudankulam and surrounding areas as deceitful drama.

On his actions on the Sri Lankan Tamils issue Karunanidhi said he drafted the party's resolution of quitting the central government and giving outside support and also announced that DMK men would go on one day hunger fast.

Jayalalithaa, on the other hand, had not done anything other than writing letters to the prime minister, he said.

The statement comes a day after Jayalaltihaa's statement charging him with enacting a drama by calling a meeting of his party's high level committee Tuesday and announcing a hunger strike Thursday to urge New Delhi to vote against Sri Lanka in the United Nations Human Rights Council (UNHRC) and then calling them off.
If you find any needful stuff please like it on facebook for latest updates.
Friends If you find any needful information here. Please dont forget to say thanks and If you need any help or if you have any doubts about this topic please give your comment below. You can also answer for others questions Thank you for your support.